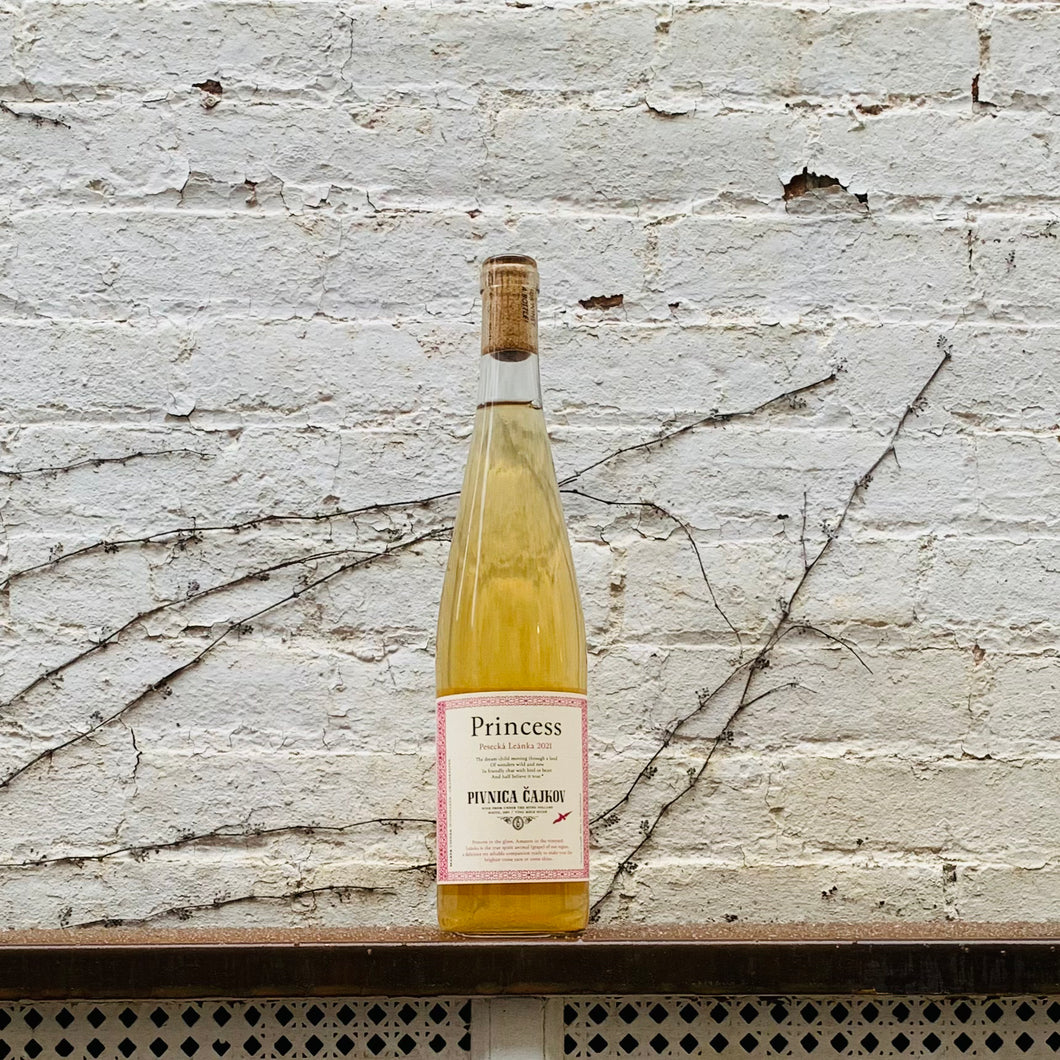 Pivnica Cajkov Princess 2022
Regular price $33.00 Sale
100% Leanka (Fetească regală)
Certified Organic
Nitra, Slovakia
The wines of Pivnica Cajkov are a synthesis of their wildly creative maker, Marek Uhnák, and the history of his family in the region of Cajkov. They are as inventive as they are classical. The production is based around the old Carpathian variety Pesecká Leánka. While studying wine at Oenology Secondary School in Modra & Mendel University in Brno he realized the mistake made in his region where historical grape varieties were replaced with popular international grape sorts. When he returned home to make wine in his familial vineyards his aim became to reverse this trend, not as a matter of taste but because of the unique suitability these localized vines have to their region.

The soils are the source of the dynamic, mineral aspect all of the wines share. The multitude of volcanic soil types is the result of a large eruption that millions of years ago, reduced a 4,000 meter high mountain to just 400 meters, in an instance, spreading its interior material across kilometers of land. One of the largest known volcanic eruptions ever, it was so large it influenced climate globally. For millennia the region has been famous for mining of gold and other precious minerals.

To Merek, nothing is more important than farming. Not only does he care about how he farms, but also his neighbors and their other neighbors. He is strongly opposed to chemical herbicides, pesticides and fungicides. His perspective is that it is necessary for there to be regional movements in the direction of organic if we are to really speak about ecological health. His vineyards are spread over 10 + locations. His ideal locations are completely wild locations surrounded by nature, these he has at higher elevation. Lower vineyards are grown without treatment and he works with neighbors to eliminate them from their cultivation practices. It is not just the air that transmits chemicals, even more so it is the water and so the locations Marek farms plots he selects in terms of natural drainage to avoid chemicals and fertilizer runoff entering his vineyards.

"Alice in Wonderland's breakfast wine"
Princess in the glass, Amazon in the vineyard: Leánka (aka Fetească regală) is the true spirit animal (grape) of our region, a delicious yet reliable companion ready to make your day brighter come rain or come shine. In this "morning version", we use Leánka from the lower part of our beloved Stará Hora plot, where the soil is more fertile and hence perfect for a lighter style of wine. We treat its delicate grapes to a gentle skin contact; the free run juice then rests undisturbed on its lees, resulting in an extra fresh white with light bubbly lift. Like a Princess, quoi: a graceful little rascal that can be all dainty and cultured while already secretly plotting her next mischief and giggling about it. Take a sip and you're in on the joke with her, too...