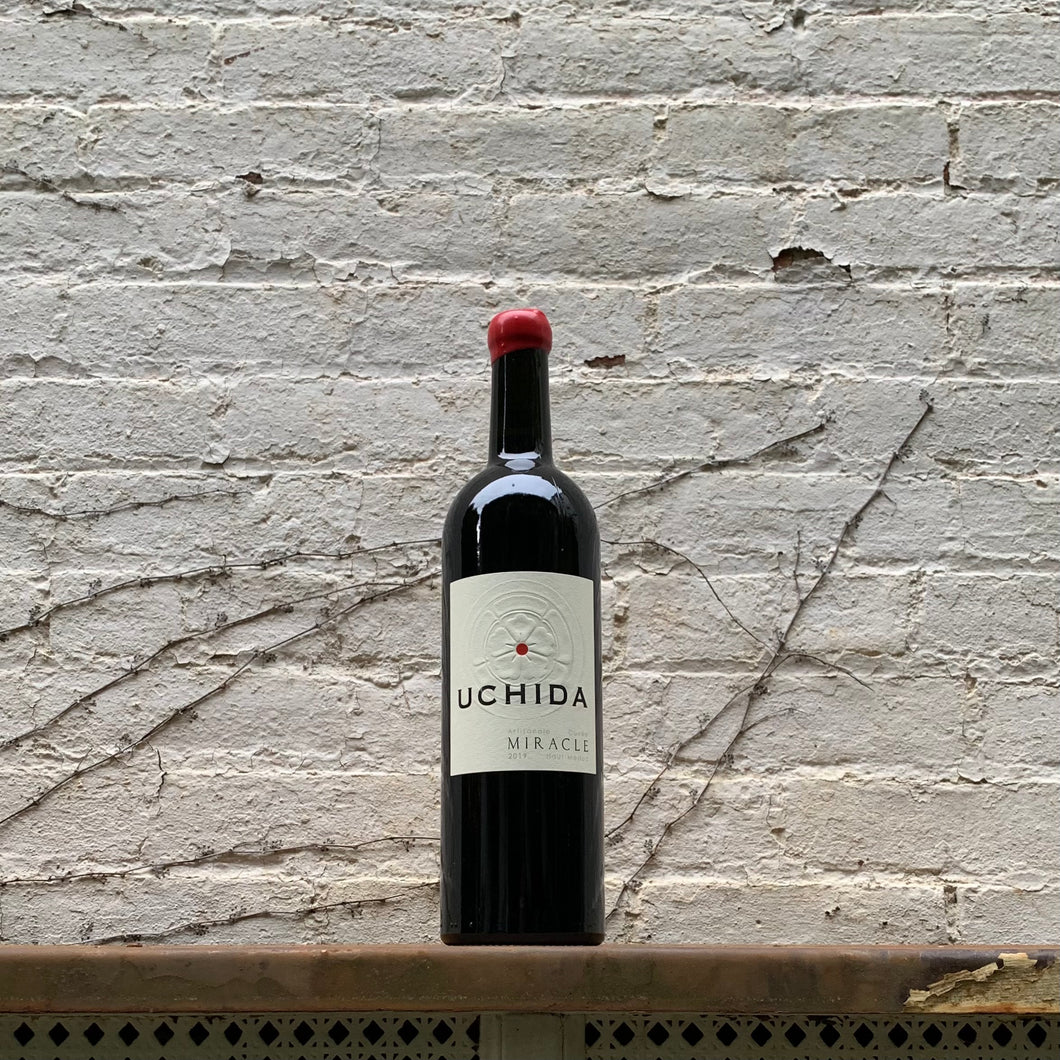 Osamu Uchida - Haut-Médoc Miracle 2019
Regular price $91.00 $91.00 Sale
Cabernet Sauvignon 
Bordeaux, France 
Organic
From the importer - 
Born in Hiroshima Japan in 1977, Osamu Uchida grew up with parents who owned a wine shop and a rice-farmer grandfather.  The family heritage as farmers and wine merchants inspired Osamu's passion for France and its vineyards.  His dream of making wine led Osamu to move to France in 1999 to study viticulture and oenology in Bordeaux.  When studies ended in 2001, Osamu continued his studies at several wineries in the Côte-Rôtie at Clusel-Roch, in Banyuls at Vial Magnere, in Bordeaux at L'Arrivée Haut-Brion and several more vineyards in the Loire and Savoie. 
In 2006, Osamu returned to Japan with the aim of saving money to fulfill his next dream of making his own wine. After searching for a long time, he found a small and isolated plot in Bordeaux Cissac-Medoc. Why Bordeaux? "Everyone was telling me don't go to Bordeaux, anywhere else is great. So I decided to explore Bordeaux. Then people advised me ok if you go to Bordeaux go to the right bank not the left bank. So I settled in Pauillac on the left bank."
In 2015, Osamu started with 0.6ha of 30 years old Cabernet Sauvignon planted on 15 inches of sandy top soil followed by clay and limestone soil. This soil allows the grapes to ripen with balance at a low level of alcohol. Prior to Osamu this vineyard was farmed without chemicals.  It is isolated and surrounded by a forest.  Since purchase, Osamu has meticulously farmed organically since 2015 and since 2019 in biodynamie. From this parcel comes the cuvée called Miracle. Today, he oversees 2.4ha of biodynamic vineyards, 5 plots in the Haut-Médoc. The total production is between 3,000 and 5,000 bottles.
His home located in Pauillac is about 100 yards from Mouton-Rothschild.  When you enter; there is a Japanese heritage present.  The crest of his family is at the entrance, there is a beautiful mini orchard with a diversity of plants, trees, flowers, horsetail, tomatoes and fresh herbs. There is a wooden tank to collect rain water to prepare biodynamic tisane or dynamization. Two chickens called Grasse and Grise (Big & Grey) run about. Inside one of his huts, two barrels of homemade soy sauce is fermenting.
Inside the garage is a petite cellar.  When the grapes arrive they are all de-stemmed by hand and delicately brought to a large wooden tank where the berries will macerate for 2 weeks at cool temperature. They are pressed and part of the juice will ferment and age for one year in terracotta and 500L used oak barrels. There is no filtration or fining. Finally, the vinification is carried out with wild yeasts and the wine is sulfured at a minimum level before bottling. The wines of Osamu are all about finesse, elegance and drinkability.
Bordeaux is changing and the quality is rising. Among a few adventurous winemakers, Osamu Uchida's  approach and unique wine makes Osamu one of the new, exciting faces of the region.