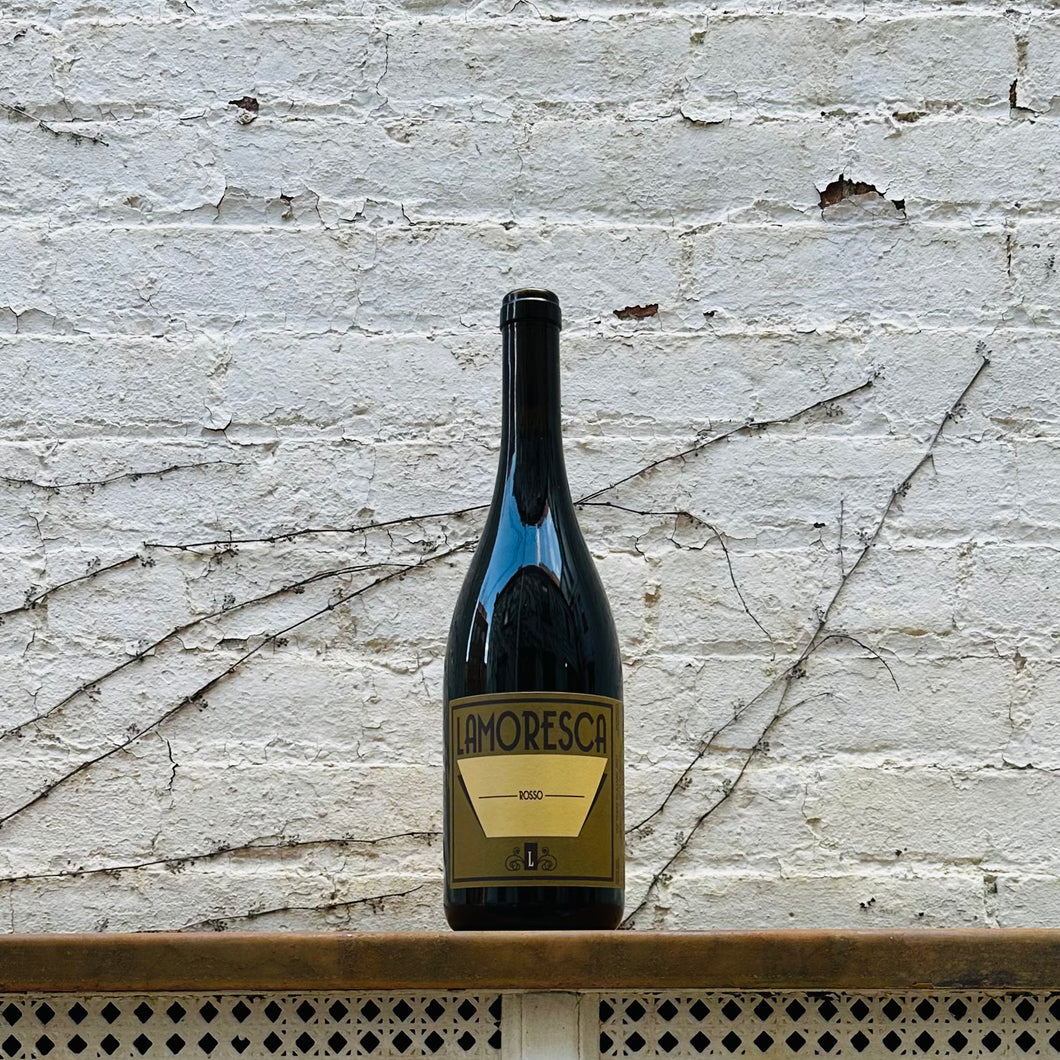 Lamoresca, Rosso 2021
Regular price $40.00 $40.00 Sale
Frappato, Nero d'Avola, Grenache
Organic
Sicily, Italy
From the importer-
Filippo Rizzo and his wife Nancy met many years ago while Filippo owned and operated a small restaurant in Belgium. At that time Filippo was among the first to be talking about and serving natural wines anywhere outside of Paris. His family had ties to Sicily and he was truly passionate about the preservation of the land and the importance of additive free wine. After years in restaurants and retail Filippo decided to get back to the land the best way he knew how, become a winemaker. With a scant 11 hectare farm, 4 of which are under vine, Filippo and Nancy have built the tiny Lamoresca estate from the ground up. While reviving his own olive groves and vines, Filippo spent several vintages with his comrade and fellow winemaker Frank Cornelissen making wine high on the slopes of Mt. Etna. La Moresca is the only winery for roughly 50 square km's and Filippo and his farm hand Gaetano work the land endlessly by hand.

Lamoresca is located in the southern most corner of the province of Catania, between Etna and Gela on the southern coast, at ~450 meters above sea level. The area has a combination of deeply compressed sandstone soils mixed with calcium and iron rich clay. The old vines are a mixture of nero d'avola, grenache and nerocapitano (frappato) for the reds, and the extremely rare vermentino corso and some roussanne for the white; all of which are worked without the aid of any chemical or pesticide. The wines are naturally fermented without temperature control and only minimal sulfur is used, and only if deemed absolutely necessary.
Roughly 50/50 Frappato and Nero d'Avola with a small amount of Grenache. Destemmed Frappato and Grenache are fermented in plastic 'tini' while the Nero d'Avola is fermented in tronconic wooden barrels. Roughly 4 weeks skin contact. Pressed and blended after fermentation in cement tanks for aging through the winter. Racked at least three times before bottling.. Aged for 12 months in cement tanks. Minimal added sulfur and no filtering or fining.