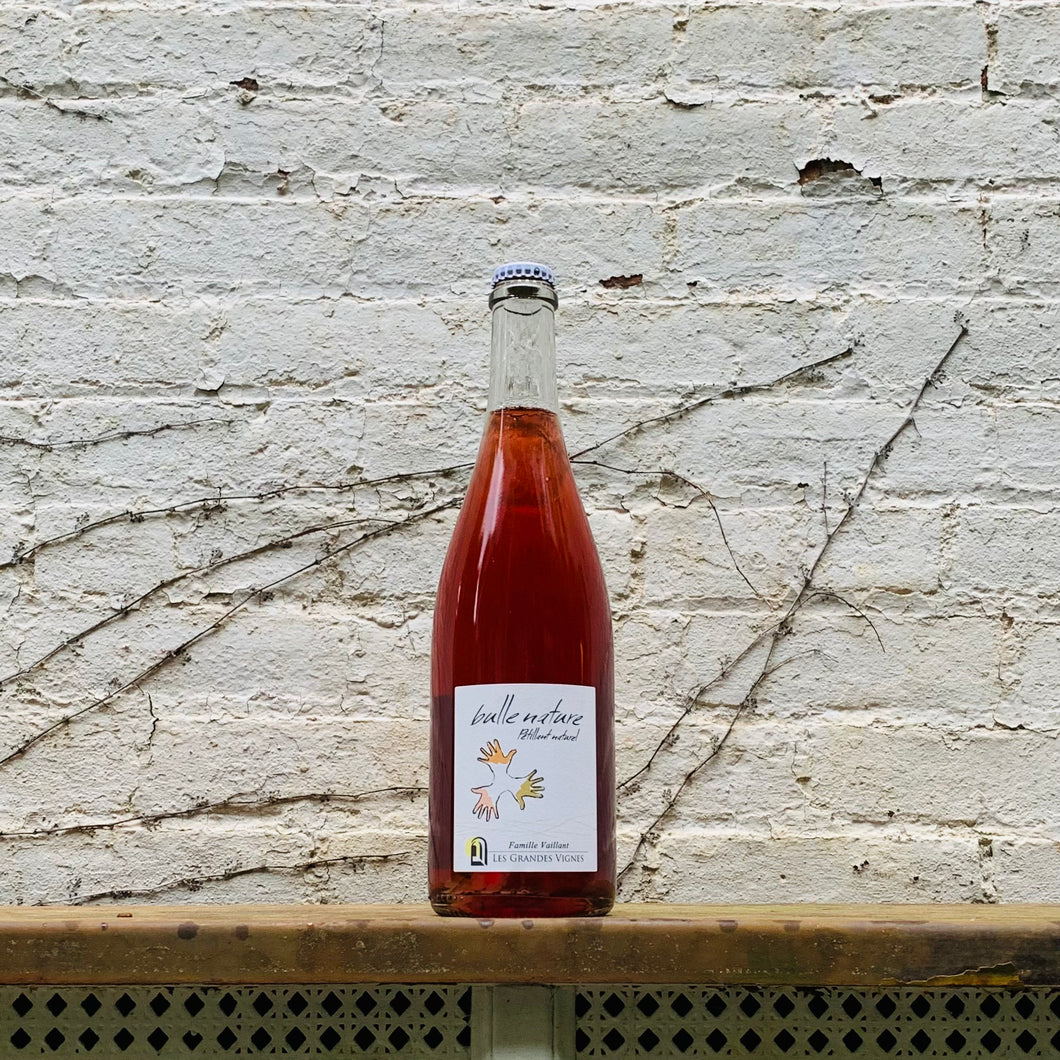 Domaine Les Grandes Vignes, Bulle Nature Pétillant Naturel Rosé 2020
Regular price $38.00 $38.00 Sale
Groslot, Chenin Blanc, Cabernet Franc, and Chardonnay
Organic/Biodynamic
Languedoc-Roussillon, France
From the importer-
Since the seventeenth century, the Vaillant family has passed on family owned land from generation to generation. Brothers and Sister together with our team we have practiced biodynamic farming since 2008. To express the authenticity of the wines, we pay particular attention to the work in the vineyard.
The vines we grow in organic farming and biodynamics cover 55 hectares and are planted with white Chenin grapes, Cabernet Franc, Grolleau, and Pineau d'Aunis for reds. Cabernets and Grolleau for the rosés. The wines that we propose owe their variety to the different exposures and nature of soils: gray and green schists, phtanites, quartz, shelled falun, sands, and smooth gravel.
Biodynamic farming allows for a global approach of the plant and the environment according to the influences that come from the land, the air and the water. The vine thrives in the best environment possible, which makes it less susceptible to pests and limits the application of copper sulphate and sulfur. The development of microbial soil life is a priority so that the roots draw all the useful elements from the source rock. We promote the development of many annual and perennial grasses, which bring a biodiversity favorable to the ecosystem. We are also attentive to the rhythm of the planets and adapt certain work, in particular the work of the soil, in order to take advantage of the favorable influences. The vines become more resistant and some applications of herbal teas and small doses of copper sulphate allow us to obtain beautiful and regular harvests. All this work, in intelligence with our environment, brings very interesting results not only to the quality of the wines but also at the human level. It is indeed a great pleasure to feel in harmony with nature.