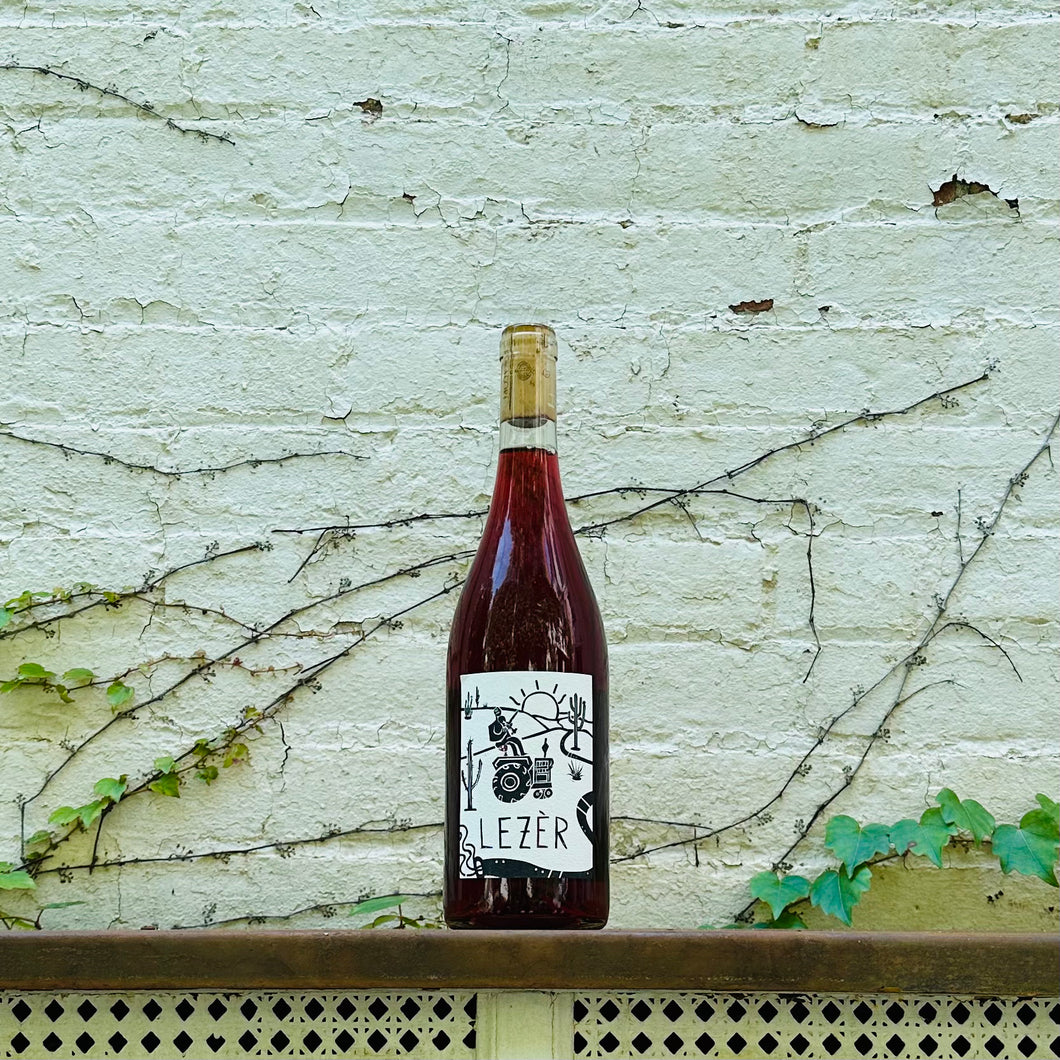 Foradori - Lezèr 2022
Regular price $34.00 Sale
100% Teroldego
Certified Biodynamic
Trentino-Alto Adige, Italy
From the importer-
Lezèr ("light" in local dialect) was a new bottling born of the terrible 2017 vintage, when the vines and fruit usually intended for the basic Foradori red bottling was devastated by a summer hailstorm. What fruit could be salvaged and ripened was turned into this short-maceration red wine, named for its light color, body and structure and labeled with a tractor-driving farmer battling the storm. It was Foradori's first vin de soif style wine, and they enjoyed the change of pace so much that even in the warm, productive 2018 vintage, they decided to make it again; jungle plants appear at the border of the label as a humorous nod to the more "tropical"--as winemaker son Emilio refers to it--conditions of this vintage. Maceration is less than 24 hours in various vessels; fermentation is spontaneous and finishes dry. It is juicy, soft and bright.
Since she took over her family's winery at the age of 19, Elisabetta Foradori has made a life's work of elevating the Teroldego grape to heights once unimaginable. An ancient variety native to the alpine Trentino region and related to Pinot Noir, Lagrein and Syrah among others, Teroldego thrives in the high, sunny foothills and plateaus below the Dolomite peaks in the far north of Italy. But for most of its modern existence, it was grown and made in bulk. The farming was conventional--chemical use, mechanical harvesting, nursery clones--with the vines trained overhead on pergolas for easier ripening and higher yields. Co-ops purchased the fruit and turned it into light, thin, two-dimensional wine for local consumption. There was little appeal to it beyond the region, and growers started ripping out the Teroldego vines in the 1980's and replacing it with more international varieties like Merlot and Cabernet.

Elisabetta's family had purchased the estate in 1934; her father bottled Foradori's first vintage in 1960. When he passed unexpectedly in 1976, her mother kept the winery going until her daughter could graduate with her enology degree. Fresh out of school, Elisabetta jumped into her first harvest in 1984, fully committed to not only preserving her family business but also to pushing it and Teroldego forward to fulfill what she believed to be their great potential for quality over quantity. Flying in the face of local and family tradition, Elisabetta turned her attention first to the vineyards, gradually replacing the pergola-trained, high-yielding clones with massale cuttings from the oldest, best Foradori vines trained low on wires in the classic French guyot style. She also began harvesting by hand, pruning rigorously and converting the farming to organic.

The upgrade in the vineyard work allowed Elisabetta to make a more concentrated and complex wine, more ready for a world stage while still true to its dark, savory, alpine roots. The much-improved standard Teroldego bottling was joined by a riserva, Granato, in the 1986 vintage, taken from the oldest, still-pergola-trained vines and aged in French barrique. While this more polished and serious Teroldego began winning critical and consumer favor in the 1990's, Elisabetta felt that there was energy missing in the wines and dug deep into the writings of Rudolf Steiner, the father of biodynamics. Beginning in 2002, she began experimenting with his biodynamic tecnhiques, carrying it through all the way to full certification in 2009, so successful and satisfying were the results in the vineyard along the way.

As the farming at Foradori went down this more subtle, holistic path, the fruit emerged finer and healthier. To capitalize on this burgeoning quality, Elisabetta made serious changes in the cellar along the way: she dropped cultured yeasts; extended macerations; began including some of the now-riper stems; reduced the number of punchdowns; and cut back on sulfur use. The combination of top-notch farming and less manipulative vinification created a more vibrant, energetic, elegant style of Teroldego which resonated with Elisabetta. She even resumed bottling two single-site Teroldegos, Sgarzon and Morei, which she had started making in1989 but dropped out of disappointment with the results. Biodynamic farming helped these wines find their individual terroir expression.

But ever restless in the pursuit of a deeper fulfillment of her vineyards' and region's potential, Elisabetta took a harder look in the cellar. Inspired by Steiner's writings about clay's vitality as well as by the amphora-aging practices of Giusto Occhipinti at COS winery in Sicily, she undertook experimentation with aging some wines in clay. It started with Nosiola, a local, nearly-extinct and usually-uninteresting white variety, which was put it into handmade, unlined Spanish clay tinajas (amphorae) with its skins for months. The Nosiola results were pleasing, and the same was tried with the Teroldegos from Sgarzon and Morei--which to this day spend about 8 months with their skins, natural yeasts and no sulfur in amphora (PInot Grigio joined this regimen in 2014). These amphora-aged wines emerged with an energy which Elisabetta had not been able to tap with any other method. And they could not have been brought about in this way, with such risky minimal intervention, without impeccable farming to deliver nothing but pristinely healthy fruit into Elisabetta's hands.

The Foradori estate today comprises 28 hectares of vines (75% Teroldego, 15% Manzoni Bianco, 5% Nosiola, 5% Pinot Grigio) and produces around 160,000 bottles in a normal vintage. The vineyards are high in altitude, surrounded by mountains but generally on flat sites which receive a lot of sunlight and drain well. The Teroldego, as well as Pinot Grigio, is grown on the expansive, limestone-and-granite-rich Campo Rotaliano plain--essentially the "grand cru" of Trentino--with its sandy, gravelly alluvial soils; the Nosiola and Manzoni come from the Fontanasanta hills above Trento on clay-limestone soils about a half-hour away. Elisabetta's gradual transformation of the family farming and winemaking over the last 30 years has elicited wines of extraordinary purity, energy and elegance and firmly established Foradori as a standard-bearer for native varieties and a natural approach to winegrowing and winemaking throughout the wine world. Her active engagement with and influence on young winegrowers in Italy and beyond has been extraordinary. The winery is now a family affair: Elisabetta has been joined full-time in the vineyard, cellar and market by her sons Theo and Emilio Zierock.