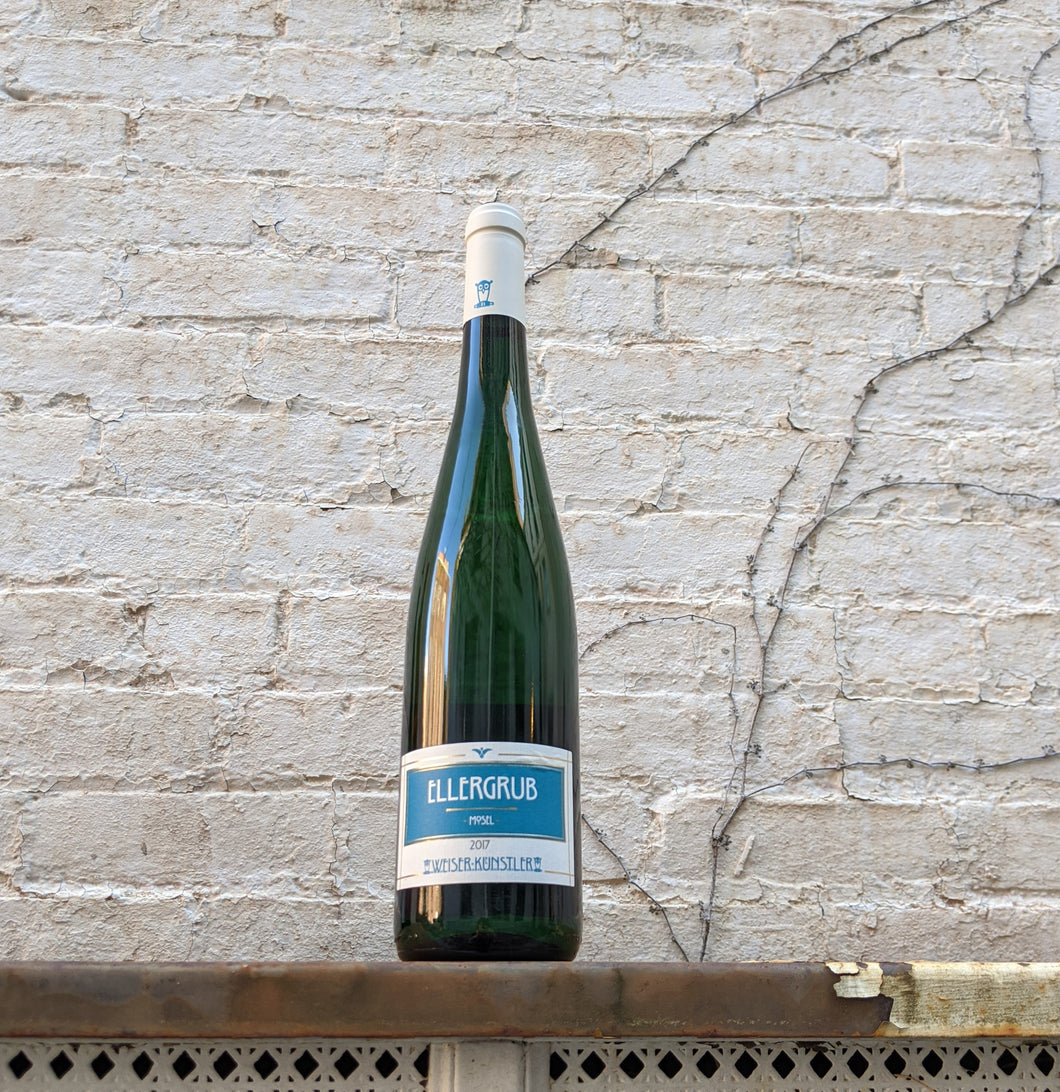 Weiser-Künstler - Enkircher Ellergrub 2017
Regular price $60.00 $60.00 Sale
100% Riesling
Biodynamic, Organic
Mosel, Germany
Imported by Vom Boden
From the importer-
"These are consistently among the top wines produced anywhere in the Mosel, made from painstakingly strict selections from prime steep vineyards planted with old un-grafted vines. Yet prices remain moderate… Savvy readers should plunge on these wines." -David Rayer & Jean Fish, Mosel Fine Wine Review
At the turn of the 20th century, Traben-Trarbach was one of the wealthiest towns in the Mosel. It was the beating heart of the trade in what were largely considered the greatest wines in the world: Mosel Rieslings. Much of the grand architecture of Traben-Trarbach was built during this period – the stunning Jugendstil ("Art Nouveau" in French) Hotel Bellevue is perhaps the most iconic building of the village.
This is an era that seems to inform much of the feel of Weiser-Künstler. The labels of this estate take their cue from the Jugendstil designers; the font looks as if it's right out of a Gustav Klimt poster.
Most importantly, however, the dawn of the 20th century was the height of fame for the vineyards that Weiser-Künstler now farm. The Lintz map of the Mosel from 1897 (detail to the right), gives the three key vineyards of Weiser-Künstler (Ellergrub, Gaispfad and Steffensberg) grand cru status. It is an awesome wall of vineyards with many terraces. As a whole, this stretch is quainter than, say, the grand amphitheaters of Piesport or Trittenheim – but it is every bit their equal. The Wolfer Sonnenlay, which finds itself on a Wei-Kü label for the first time for vintage 2015, as a Kabinett, is ranked in the earlier 1868 map as "premier cru."
If all of these vineyards fell into obscurity in the latter half of the 20th century, this is not entirely a bad thing. The fact is that these vines have not seen the "modernization" that many sites in the Mosel have, which means that these cliff-vineyards still have their jutting, ladder-like terraces. And on these terraces, they have a high density of very old, un-grafted vines.
This is a place, literally, where roots run very deep; you can taste that profundity in the wines.
Konstantin Weiser and Alexandra Künstler are as soulful as the vineyards they farm; this is a micro-estate with only around 4 hectares total. They very literally do everything by hand, working the sites both organically and biodynamically. They are in the vines daily and it's immediately obvious that this is where they're most comfortable – it's obvious that they love their vineyards.
This intimacy comes through in the wines. In fact, if we were to point to one producer who carries a similar message of staggering complexity and simple charm, it would be Willi and Christoph Schaefer. Both estates are tiny; both estates seem to easily, naturally make wines that are ethereal, bubbling with purity and subtle nuance. Both estates produce haunting, magical little wines that are worth their weight in gold.
As at Willi Schaefer, Weiser-Künstler makes exceptional Prädikat wines, Kabinetts with true delicacy and lightness, Spätlesen with vigor and depth, Auslesen with flair, and true, old-school "stickies" with more of it all. However, Weiser-Künstler also makes incredible dry wines – dainty angels carved from mineral and slate that feel like porcelain in their weight and purity.

In other words, Weiser-Künstler does it all, and does it all beautifully.