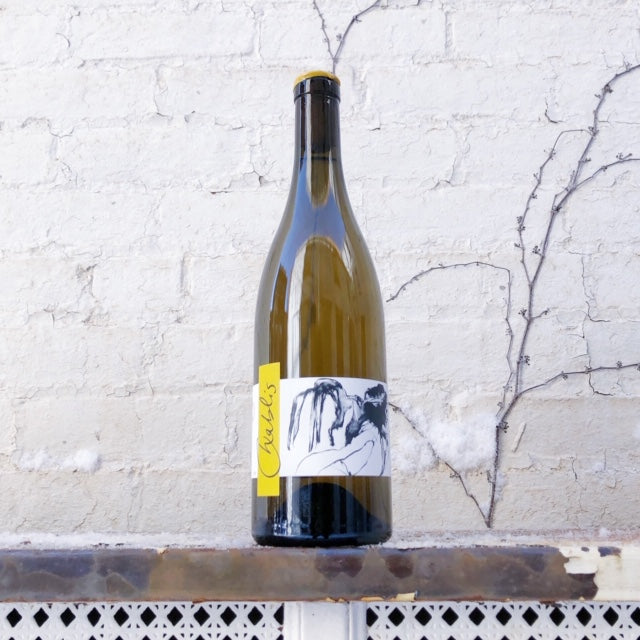 Pattes Loup - Chablis Vent d'Ange Mise Tardive 2018
Regular price $49.00 $49.00 Sale
100% Chardonnay
Organic
Chablis, Burgundy, France
From the importer-
From vines averaging 55 years old mostly selection massale plantings by Pico's grandfather around the villages Courgis and Preys, south-west of central Chablis. Vineyards are approximately 300 meters high making these two of Chablis highest altitude villages. Kimmeridgian, limestone, and brown clay soil. Vineyards are farmed using organic methods. All vineyard work is done by hand. Yields are kept small at the domaine, approximately 28 hectoliters per hectare. Pico uses a "champagne press" at the domaine to allow for a very slow and delicate press of the grapes. All juice moves downstairs to the vinification settling room by gravity through a drain at the bottle of the press. All wines are fermented using only indigenous yeasts and élevage is slow and long lasting up to 14 months. A combination of stainless steel and cement eggs are used for the Chablis Vent d'Ange. The juice is racked and blended and will be blended again before bottling. Each parcel is vinified separately and blended after one year of fermentation. Bottled without fining and filtration. Aged for over 30 months on the lees in a combination of stainless steel, cement egg, and used barrique (40%). Bottled July 2018.
In 2015 Pico experienced yields of 9 hl/ha. "April 27, frost destroyed 50% of the crop on 5 hectares; the hail of May 27 completely destroyed 15 out of 25 hectares; and mildew, encouraged by lots of rain in May and June (290mm) did damage to the vines which had been spared the frost and hail. Nevertheless, my determination and my will to work organically were not shaken because it is a firm conviction for me and an engagement with my clients." - Thomas Pico
Domaine Pattes Loup is one of the most exciting estates to emerge from Chablis in recent years (Pattes Loup means "wolf's paws"). Thomas Pico started his tiny estate in Courgis in 2005, just outside of the village of Chablis, under the wing of his friends and fellow organic Chablisiens, Alice and Olivier de Moor. He inherited 2.4 hectares of vines from his family's estate, which has historically produced correct, but uninspiring wines. Motivated to take a qualitative leap in a new direction, and against the wishes of his father, he immediately began a program of strict yield control and a conversion to organic viticulture. This is a rarity in Chablis and a feat of extreme diligence in this often inhospitable vinegrowing region.
Fortunately, most of Pico's vines are selection massale planted by his grandfather on the hillsides near Courgis and Preys, the two highest altitude villages within the appellation, with vineyards up to 300 meters. Another distinguishing factor is Pico's commitment to hand-harvesting, followed by hand sorting of any imperfect berries on a vibrating triage table at the winery. He ferments all wines using indigenous yeasts, does a 14-16 month élévage on the wines, and bottles without fining and filtration. His AC Chablis from 55+ year old vines is fermented in about 30-40% in concrete egg-shaped fermenters with the balance in stainless steel. The Premier Crus of Côte de Jouan, Beauregard and Montmains (from the lieu-dit "Butteaux") are from hillside vineyards between 30 and 55 years old, and are all raised in older oak.
For a young winemaker in his early 30s, he is wise beyond his years. His drive and passion to express the soul and spirit of his land reminds us of icons like Anselme Selosse. These wines all scream "Chablis", but not just in their briny minerality. There is a sense of vitality to the wines, and a textured density that can only come from dedicated work in the vineyards and transparent winemaking.