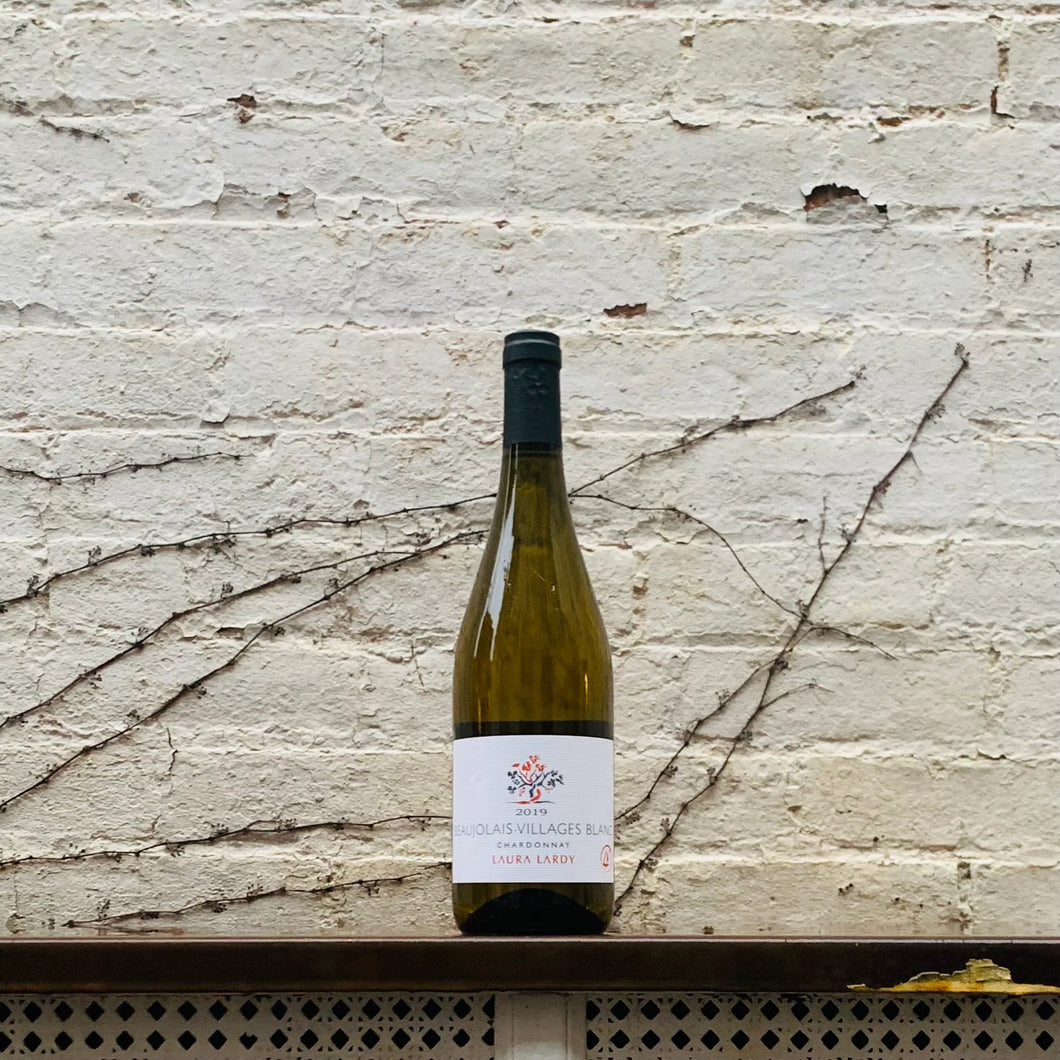 Laura Lardy, Beaujolais-Villages Blanc 2021
Regular price $30.00 Sale
100% Chardonnay 
Organic 
Beaujolais-Villages, Burgundy, France
From the importer- 
Grapes are hand-harvested and sorted, then directly pressed into neutral demi-muid (600L) where they ferment spontaneously and then rest for 3 months. No fining or filtration, minimum sulfur at bottling.
"I tried to escape the winemaking fate, but to no avail – after a couple of years in a different company, I went back to the family estate in 2015. And in 2017, when I was 27, the first vintage of my own wine was born," Laura Lardy shrugs with a smile when recalling her apparently inevitable roots. After all, she is the fourth generation of a Fleurie winemaking family, as her ancestors started a mixed farm in 1870. Her father Lucien and brother Yohan are both active vignerons, making wines under their respective names, and Laura herself recalls how she was always keen on following her father in the vineyards from a tender age.
Her path is different in her devotion to organics–she started to convert the 5.5ha of vines she rents from her father as soon as she took them over, led by the conviction that preserving the indigenous yeasts on the grape skins and respecting the soils leads to fewer chemical interventions in the cellar as well as a more faithful terroir reflection in the wine. "I knew that if I was to make wine, it would have to be this way, no matter how hard it is in the beginning," Laura asserts. "I try to be as respectful of the environment in my daily life, so it's obvious I want to be just as careful about the ecology and waste management in my work."
"I love Gamay–it's so versatile and can take so many different flavor profiles depending on the soil, slope, microclimate…" Laura enthuses, and her wines prove her right: her Fleurie is violet-driven and floral as its name suggests; the Moulin á Vent is all glou, silky and fruity in its youth, while the Chénas offers a more heady image with distinct acidity and tannins prone to cellaring; and the Morgon, thanks to its old vines on blue schist soil, sings in spicier yet racy tones. 
All the wines are made using the regionally typical semi-carbonic maceration of whole grapes in concrete vats, then slowly pressed into old neutral barrels or foudres. "I like to age my wines in wood not because of the oak taste, but because it naturally smoothes and de-gasifies them," Laura explains. All fermentations happen naturally, and no enological additives are used save for a little bit of sulfur at bottling (20ppm max), as too much of it would "limit the terroir complexity and fruit," she says, admitting she's very lucky to be able to work in her father's cellar that's well equipped for this style of work. She also makes a bit of white Beaujolais Villages from young Chardonnay wines on granite with similar simplicity in the cellar. 
"The Beaujolais landscape is one of the most extraordinary I know, offering beauty every single day. So, to be a part of it and promote it respectfully through the wines I make is bliss," says the young vigneronne with a determined spark that makes us feel that–as pleasurable as her wines already are–this is a curious, progressive force that is definitely worth siding with!