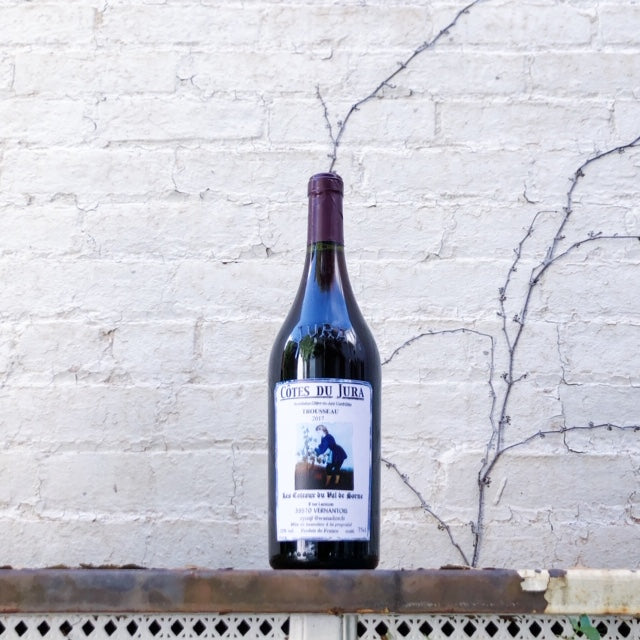 Domaine des Coteaux du Val de Sorne - Côtes du Jura Trousseau 2019
Regular price $44.00 $44.00 Sale
100% Trousseau
Certified Organic, Vegan
Jura, France
From the importer-
Jean-Francois is the 14th generation of vignerons located in the village of Vernantois. He started in 1987 and released his first wines in 1992. The small estate has a surface of 2.68ha (Poulard, Savagnin, Trousseau and Chardonnay). He has always farmed organically and the Domaine was certified in 2003.
The village of Vernantois is situated in a secluded area South of Lons-le-Saunier at the end of the valley of the Sorne and surrounded by scenic hills. The vineyards are on slopes going up to 300m elevation. The soil is composed of marl from the Jurassic and Triassic period. Until the French revolution, the vineyards of Vernantois were part of an ancient estate that belonged to the abbey of Saint-Claude and were among the largest area of production in Jura.
In the cellar, which is within the village of a 17th-century building, the work is done with minimum intervention, without additives of any sort and minimum to no SO2 used.
Jean-Francois is an exciting person to know he has tremendous culture, combined with a sharp mind and a sarcastic humor. He is an historian by training and still practices to this day. A side note about the label of his wines. It depicts Saint Vernier who was the patron saint of the vintners during the Hasbourg period. On this picture found in a local church you see him harvesting Poulsard.