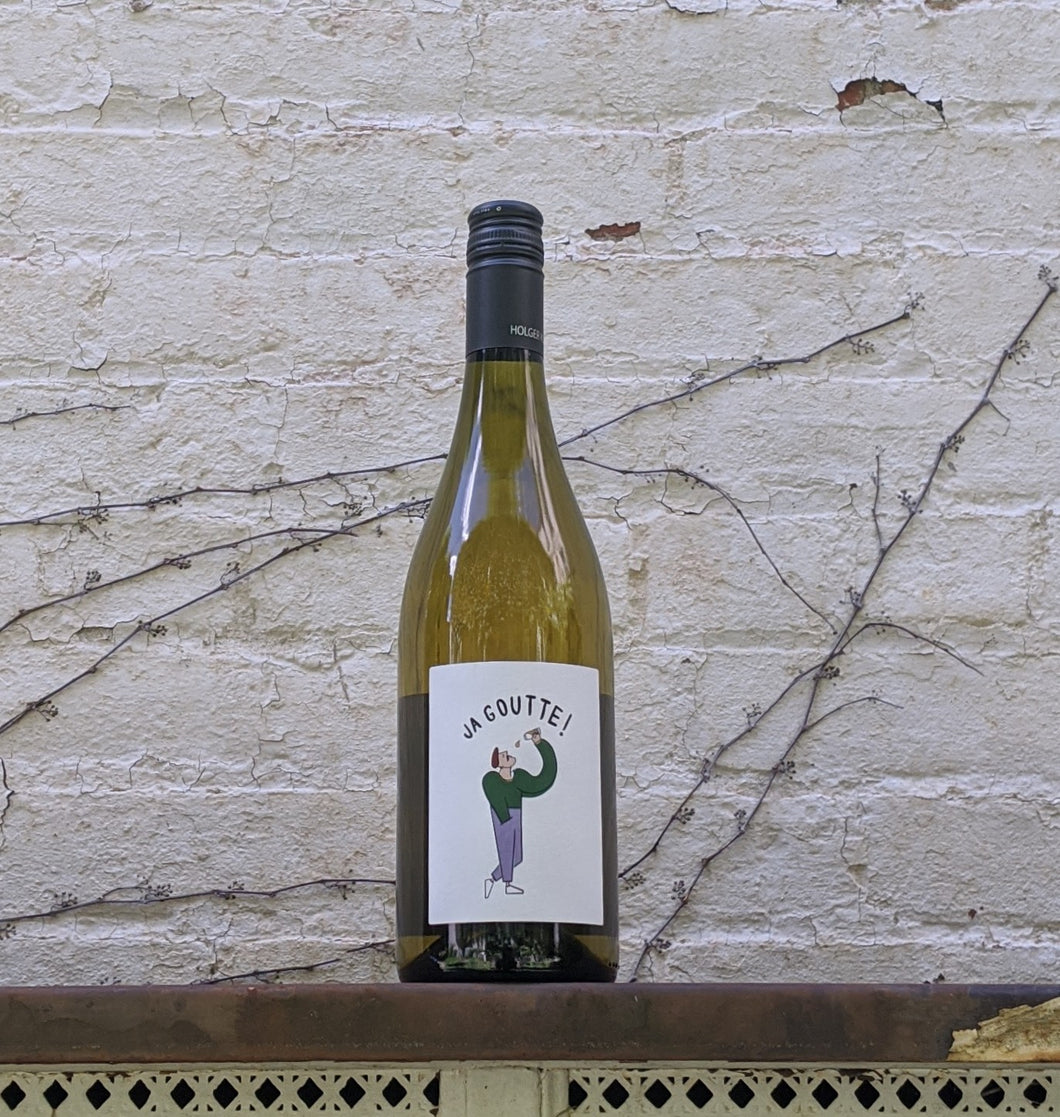 Holger Koch - Ja Goutte! 2021
Regular price $26.00 $26.00 Sale
85% Grauburgunder, 12% Müller-Thurgau, 3% Sauvignon Blanc
Certified Organic
Baden, Germany
From the importer-
From ~20 year old vines, hand harvested, destemmed, grapes are vinified separately (5% of the grauburgunder is mash-fermented), then blended .

Holger and his wife Gabriele started making wine in 1999. In fact, Holger grew up believing he didn't much like wine, yet he also grew up among vines, and there was a tacit understanding with his parents that one day he might take over the family vineyards in Bickensohl. At some point, Holger discovered that he actually did like wine -- quite a lot in fact -- but only if it met his exacting standards.
This led to some difficult decisions when he returned to Bickensohl to steer the Koch domain out of the local co-op and into the deep water of fine hooch. To cut a long story short, he knew that to make good wine he needed good material in the vineyard: if he wanted to make great wine, the family's current vines (newly planted clones) had to go.
And go they did — to be replaced by choice selection massale plants from Burgundy and Alsace: Pinot Noir, Chardonnay, Silvaner, Grauburgunder, Weißburgunder and Spätburgunder. These are noble plants, which ripen with much lower sugar levels than the more prodigious clones traditional in these parts. They play a very large role in what Holger does, which, for the most part, is a little as possible. As you may imagine, when it comes to winemaking, 'doing very little' involves a great deal of work and stress, and it takes a great deal of time.
After a few years, he began making the finest Pinots -- Noir, Blanc and Gris -- in Swabia, and is renowned internationally as a magician of Pinot Noir. Holger's rules are simple. There is no dogma, just absolute pristine viticulture, and a belief in the idea that several days in the vineyard are preferable to a quick fix in the cellar, where Holger's touch is light indeed. Chaptalization and yeasting are viewed with suspicion, if not disdain, and the élevage of each wine is approached with a thoughtfulness which is rare.
We are grateful for the time and effort Holger and Gabriele devote to these wines, which we think of as the wines Wittgenstein would have made, if only he had been a vigneron. Precise, clear in their intention, and purely delicious.