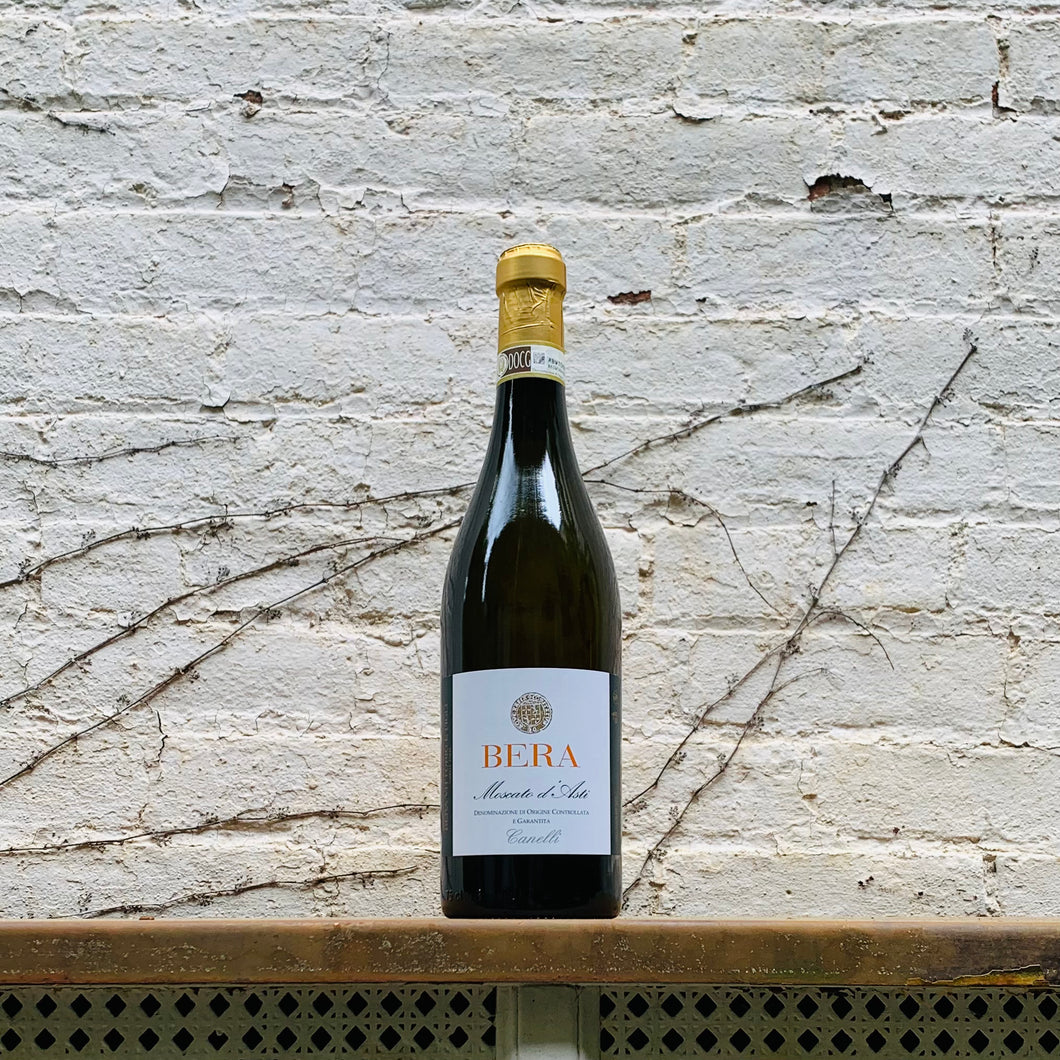 Bera - Moscato d'Asti 2021
Regular price $23.00 $23.00 Sale
100% Moscato
Organic
Piedmont, Italy
From the importer-
This Moscato d'Asti is picked later than Asti and captures more of Moscato's hedonistic fruit and floral aromas. The wine is slightly sparkling (frizzante), lower in alcohol, and has a bit more sweetness than Asti. However, its sugar is well balanced by acidity thanks to Valter's careful work in the vineyard and cellar.
With its gentle sweetness and low alcohol, few wines are as well suited for brunch as Asti and Moscato d'Asti. Moscato d'Asti is ideal with brioche, panettone, and french toast dusted with powdered sugar. Asti can also be served as an apertivo or be paired with spicy Asian cuisine or delicately sweet desserts.
Valter Bera represents the very best of small-scale Asti and Moscato d'Asti production in Piedmont. The family has grown grapes in the village of Neviglie for over a century, growing and selling grapes to other firms for many years. Valter joined the winery in 1979 after graduating from the Enological School of Alba and began bottling Moscato, Brachetto, Barbera, and Nebbiolo under the Bera name. Valter soon earned a reputation for the quality of his wines, especially for his exceptional Moscato, and has continued to refine his work with the help of his two sons, Umberto and Riccardo.
Neviglie is a small village of 400 people located just a few kilometers south of Barbaresco. The family farms 56 acres in Neviglie and in the nearby Asti and Barbaresco areas to produce a broad range of wines. Moscato is grown in calcareous-clay in the village of Neviglie and in Asti where the Bera's also grow Brachetto.
Moscato d'Asti (the specialty of the Bera winery) and fully sparkling Asti are today almost exclusively produced by larger companies. Valter Bera strives to return this historic wine to its small-winery roots, which means producing these wines by hand rather than by automation as well as working with the Martinotti (Charmat) method on a much smaller scale than most of his competitors. Valter's sparkling wines are full of liveliness and fruit while his reds show typical Piemontese seriousness. Valter Bera works in a modernized cellar but in a mostly traditional way, always allowing his wines to speak of their territory.